Webster's dictionary defines a tool as anything used as a means of accomplishing a task or purpose.
The picture on the right shows one of the main tools we use each time we begin a project to gain deeper insight and understanding into a church. The revelations that emerge as we write on the pad create a basis for helping church leaders move forward toward a preferred future.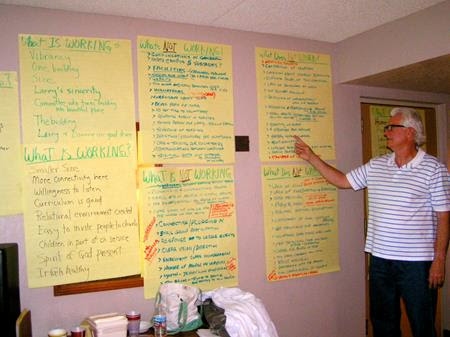 I thought I would briefly walk you through a typical day at our house when we use these "tools". Before this day we have done an NCD survey with 30 very informed and involved members of the church. I have input the data into my computer and received the scientific results from NCD International. The results  show, among many things, the average score of the church (how they compare in eight vital areas of church life with the other churches using this survey in the U.S.), the minimum factor (the area with the lowest health), as well as the highest value (what they tend to do really well). We also receive five detailed reports that look in depth at the key areas of the church's health.
We pull out the easel, the large yellow pad and the markers and go to work.
We brainstorm the critical areas, discussing the minimum factor as well as the other important aspects of the reports.
We talk and pray and talk some more.
We take more notes on the pads, crossing out some ideas and asking God to clarify. We leave it for a while – take a break, maybe walk around outside and then come at it from another angle, etc.
This is a challenging process that gives our brains and prayer life a real workout. Often the work goes to bed with us as we continue to ruminate over ideas in our sleep. I believe Scott carries the weight of this process so he probably experiences the most sleep loss until we arrive at our conclusions.
Once we feel confident about our analysis, we write a report that we share with church leaders. The report concludes with recommendations for a way forward regarding strategic development.
Family News

This summer we have been fortunate to have visits from two of our three sons and their families. The most recent was with our youngest son, Lucas. He, Dana and the boys enlivened our home for several days. Our middle son, Aaron, joined his wife, Tatum, for a few days while she was in Los Angeles on business. We were delighted to have them spend one night with us in the desert. Additional visits with friends and family will be enjoyed as we travel back to Baton Rouge.
Thanks for letting me share…
the mechanics of one aspect of our work. Our tools are simple but very effective. The insights and learnings that these tools help reveal have proven to be very valuable in helping churches become  healthier and more fruitful. We are thankful God made us in such a way that we experience real joy in the ministry he has given us.
This is Delores, for the two of us
Our Church Involvements in this Season:
Cornerstone Covenant Church, Palm Desert, CA  http://www.cornerstonehome.org
Crossline Community Church, Laguna Hills, CA http://www.crosslinechurch.com
Crossroads Community Church, Mission Viejo, CA http://www.crossroadscommunitychurch.net
JPL Bible Church, Rancho Mirage, CA  http://www.jplbiblechurch.org
LaJolla Community Church, San Diego, CA http://www.ljcommunitychurch.org